Gerald Saindon, a founder of Vida (formerly known as Mother and Unborn Baby Care,) passed away on April 14, 2023, at the age of 74.
Gerald dedicated his life to God and serving others. In addition to teaching full-time and raising seven children with his wife Peggy, he helped establish our organization in 1983 and served as the founding president. Thousands of women, children, and families were served during his tenure and supported in their decision to choose life for their child, either through parenting or adoption. He was inspired to make his community a place where every child was wanted and loved, and that inspiration and his legacy continue to live on in the compassionate, empowering, and loving work and mission of Vida today.
Click here to read the full obituary. Please join us in lifting Gerald and his family up in prayer. 
Visitation will take place at Muehl-Boettcher Funeral Home, Seymour, from 4-7 p.m. on Thursday, April 20, 2023, Visitation continues at St. John Catholic Church, 915 Ivory St., Seymour, on Friday, April 21, 2023, from 9:30-11 a.m., with funeral Mass to follow at 11 a.m. In lieu of flowers, the family has requested donations be directed to Vida, the organization he founded and through which his desire for our community to welcome every child with love and to serve others lives on.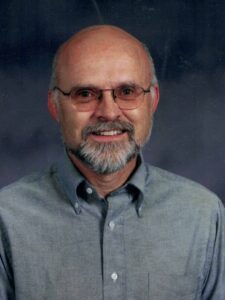 Pictured: Gerald and Peggy Saindon pose for a photo at Vida's grand opening and building dedication of its new center site on May 20, 2021. 
As organization founders, they were honored with the naming of the new building's board room. The plaque, which is at the entrance of the Vida Founders' Board Room in the building, reads: This Board Room is dedicated to our faith-filled founders, Gerald and Peggy Saindon and Carolyn Baird, in honor of and appreciation for their brave response to the Holy Spirit's calling to provide a place of truth, love, and compassion for those facing unplanned pregnancies. Thousands of women and families have felt and tasted the sweetness of our Heavenly Father's love and grace and received the seeds of faith because of our founders' vision and obedience.